Okay I am so sorry for being three days late posting about my Christmas but my laptop decided to die on me so I had to get it fixed before I could post anything ah!
After a jam packed few days spending time with family and enjoying Christmas, it is so hard to get back into a normal routine. Time flew by this season and I am so sad that Christmas is over, but I plan to leave my tree and all the decorations up for a little while longer, I am not ready to say goodbye.
I started off Christmas Eve by wrapping up some last minute Christmas presents. You have to admire my effort of leaving things to the last minute, I tell myself every year I will have them all wrapped by the middle of December but it never happens.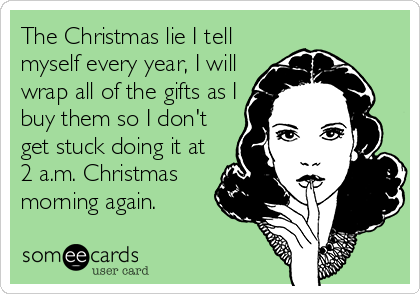 This is so true.
Christmas Eve I always wear my new pj's and cuddle up on the sofa watching a Christmas movie.
This year it was 'Love Actually' (okay it should of been Santa Clause but I was too lazy to change the DVD out of the DVD player)
Christmas morning was a quiet one for our family. We woke up leisurely, had a warm cup of tea and exchanged/opened gifts.
Then it was time for our tradition: UGLY SWEATERS.
This was my ugly sweater this year!
Every year our family have a tradition where we all wear our Christmas jumpers and have a family photo of us all wearing them. We usually wear them all day, because who doesn't love a big ol Christmas sweater.
The rest of the morning was spent relaxing and watching some more Christmas films, whilst my mum slaved away in the kitchen cooking the dinner. One of my favourite parts about Christmas is the cooking, the smell throughout the house whilst its cooking is delicious.
Once again I failed at getting a picture of the dinner as I was so hungry, I couldn't even wait to take a photo oops.
After our dinner came my favourite part, dessert.
Then we all proceeded to take a big giant nap before heading to see the rest of the family. I love going to my grandparents in the late afternoon on Christmas day as all the family are there so I get to spend some quality time with my extended and intimidate family!
Christmas night ended with us drinking many alcohol beverages, playing board games and laughing until our belly hurt.
Boxing day is another day that we have in the U.K where we get an extra day to celebrate! My dads birthday is on Christmas day (Happy birthday dad!) but because he lives a few hours away I don't get to spend Christmas with him or his side of the family, but on Boxing day we all come together to have our own little Christmas. We exchange gifts, have a drink and just enjoy each others company.
Then Sunday was just spent binge watching TV, napping and recovering from the festivities.
This is me right now.
The lack of pictures is quite comical but by mid afternoon I was way to drunk to take any photos. The documenting of Christmas 2015 has been a giant fail, but
I hope you all had a wonderful time celebrating the holidays!
P.S add me on Snapchat courtjonesxx I love to see all your adventures.